Fall EXCLUSIVES Box
Regular price
Sale price
$60.00 USD
Unit price
per
Sale
Sold out
6 Fall inspired EXCLUSIVE items 🍂
- Cashmere whipped body butter ($22)
Notes of vanilla, golden peach, and musk infused with gold glitter to make your skin glisten
- Wildberry lip gloss ($10) 
Cranberry flavored milky magenta shade
- Cardigan lip gloss ($10)
Cinnamon roll flavored sheer brown shade with gold shimmer
- Lily Lou's Aromas bubble candle ($10)
Pumpkin spice scented candle
- Massage soap bar ($10)
Notes of vanilla, golden peach, and musk (matching with body butter)
- Cream blush stick ($5)
Chosen at random, shade Dried Rose OR Charming grape, both universal and perfect shades for Fall
Box includes a $10 off coupon for our next seasonal box! 
LIP GLOSS •  INGREDIENTS: Hydrogenated Polyisobutene, Polybutene, Polyisobutene, Caprylic/capric triglyceride, Ethylene/Propylene/Styrene Copolymer, Tocopheryl Acetate (Vitamin E), Simmondsia Chinensis (Jojoba) Seed Oil, Butylene/Ethylene/Styrene Copolymer, Pentaerythrityl Tetra-di-t-butyl Hydroxyhydrocinnamate, Caprylyl Glycol, Phenoxyethanol, Hexylene Glycol.Liquid Coconut Oil, Vitamin E Oil, E Oil, Cosmetic Grade Pigment
BODY BUTTER • INGREDIENTS: Shea butter, Almond Oil, Coconut Oil, Bees Wax, Tapioca starch, vitamin E, Jojoba oil, Skin safe colorant, Fragrance oil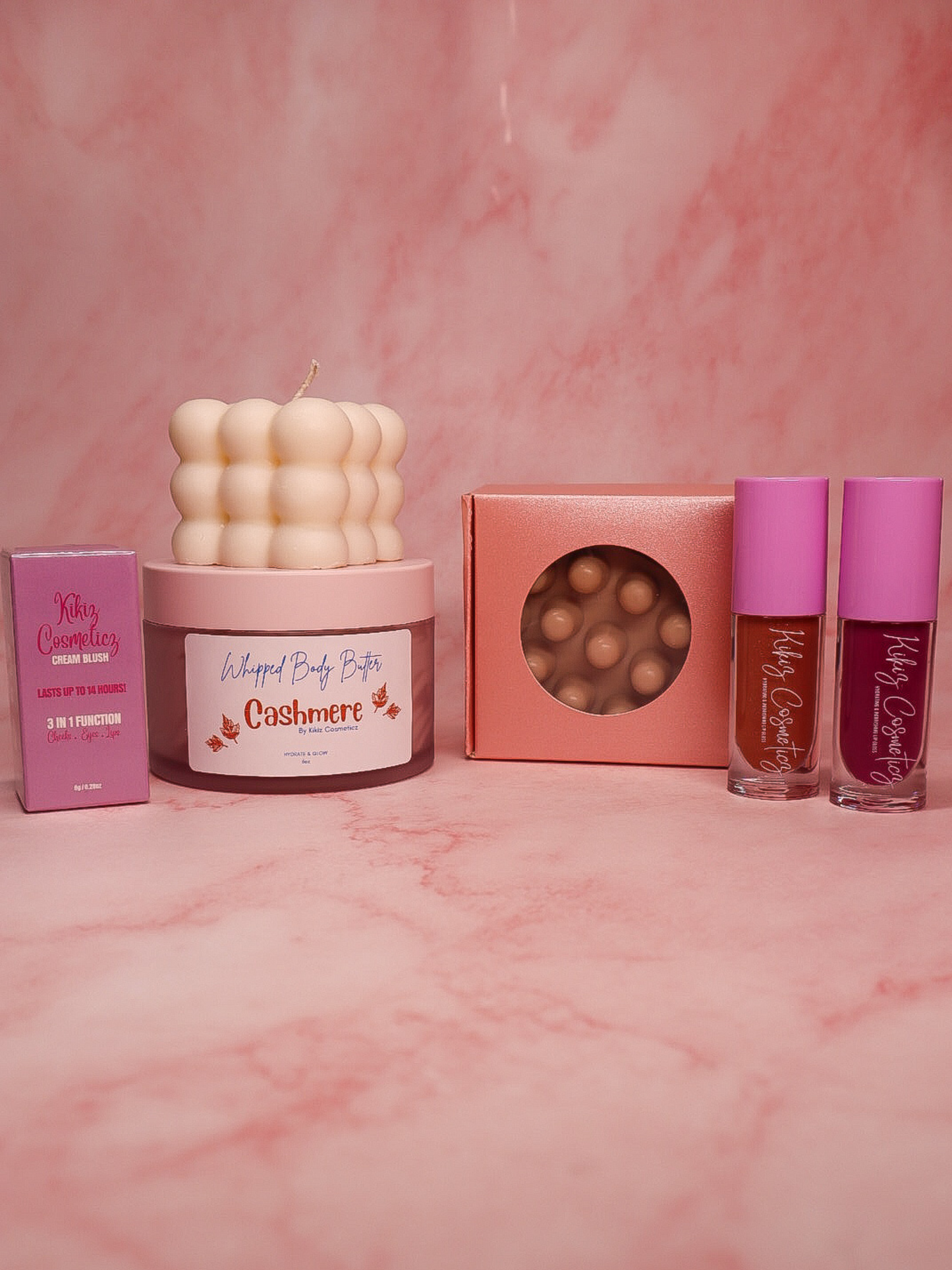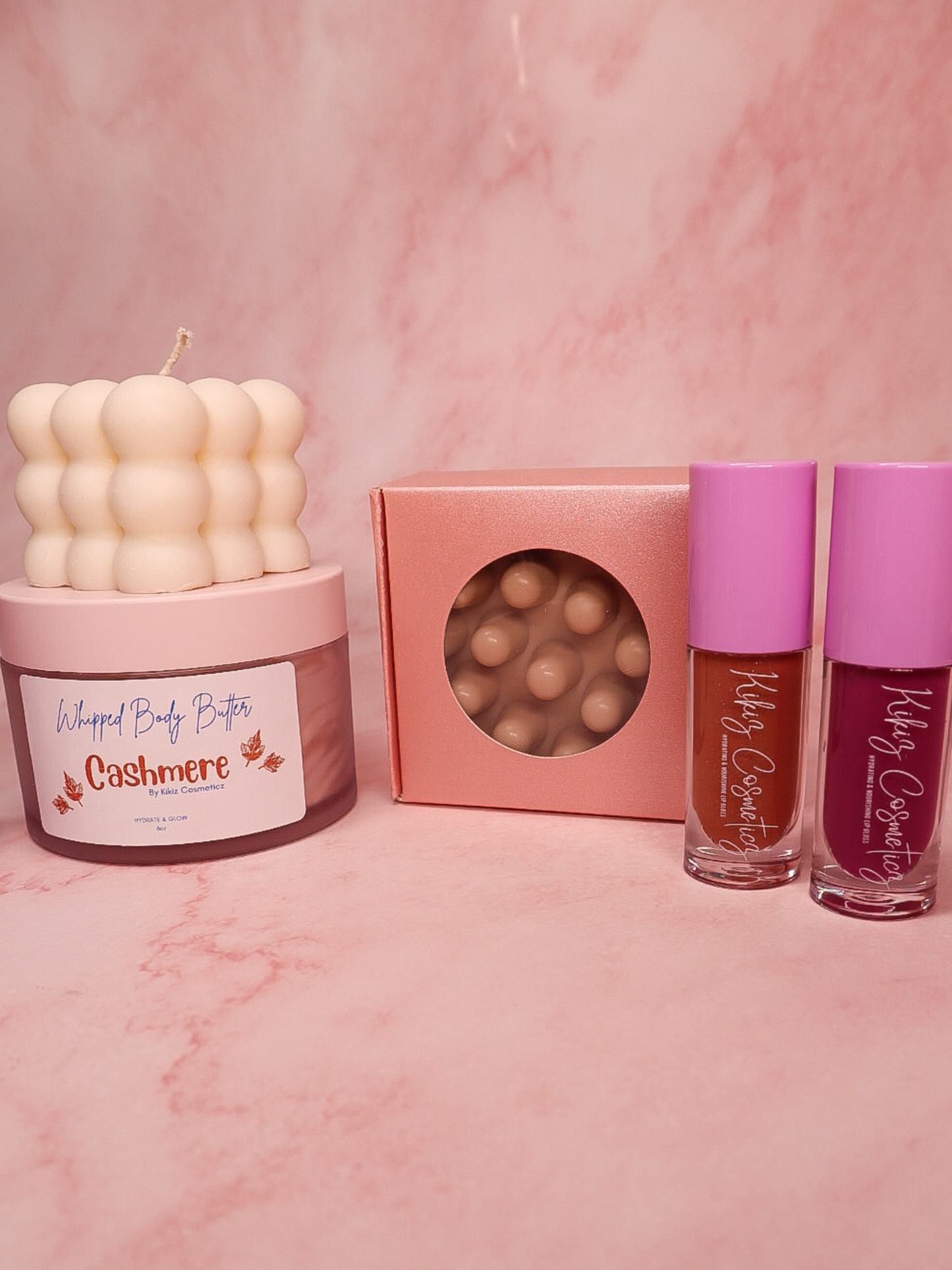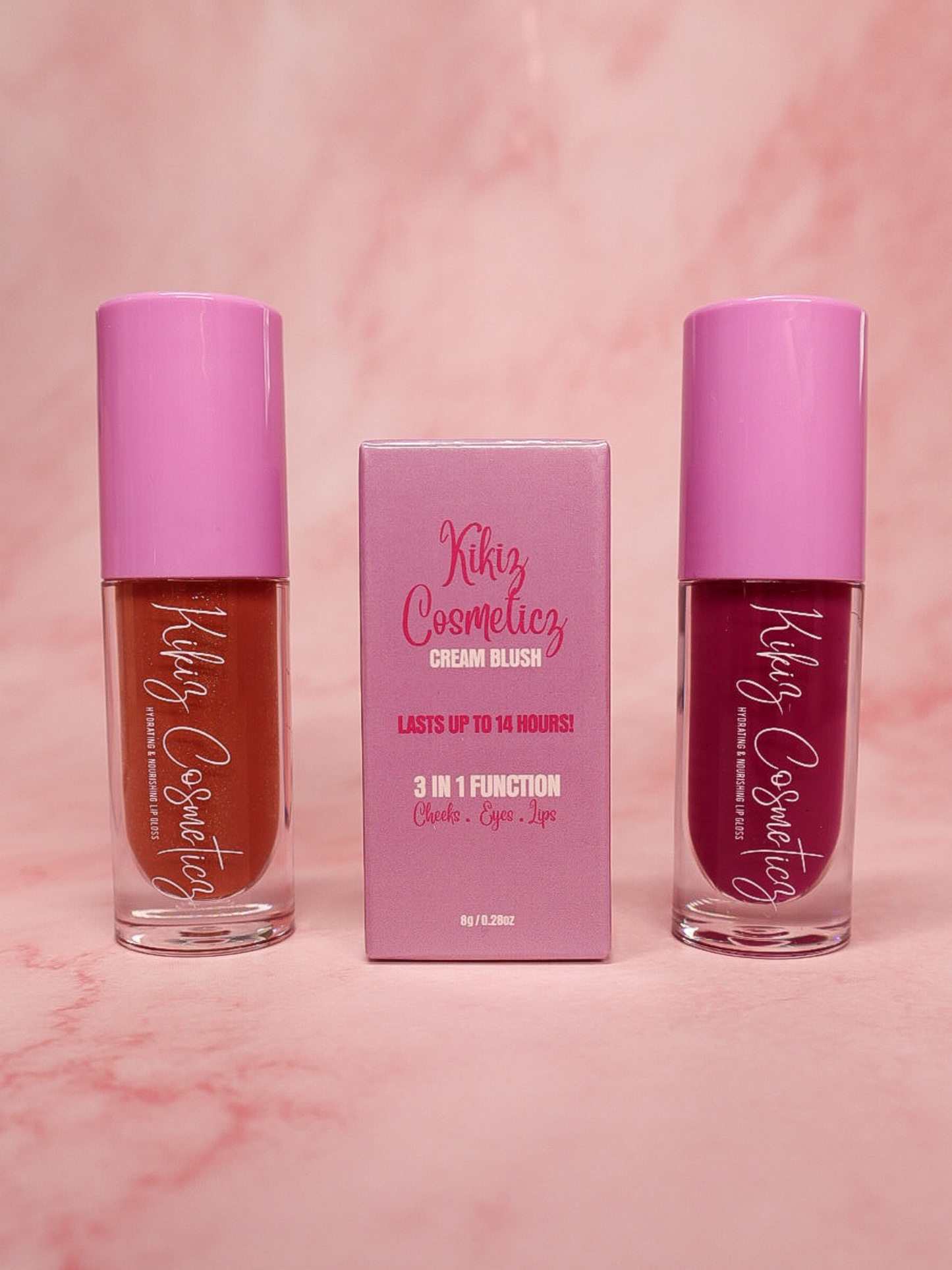 Great Fall Box
The colors are beautiful and everything smells heavenly!!!!
Love It 😍
Everything came in amazing shape. It's all exactly as Kiki described it. The Wildberry gloss is pigmented and beautiful and the Cardigan gloss is the perfect glittery nude shade. The soap bar and body butter are both now staples in my everything showers. The blush is super pigmented and a little goes a long way. Great job Kiki!! ❤️
Pretty amazing except for cardigan lip gloss
I was very happy to have this box, I had never tried body butter and was excited to try it. I loved the wild berry lip gloss and the cashmere scented items. The blush I received was the darkest shade and although I don't wear makeup very often, I do have very fair skin so we'll see how that turns out. My only issue with this box was the cardigan lip gloss. After trying it I had to double check what the scent was supposed to be, the only connection I could have possibly made to a cinnamon flavor was that it was kind of similar to the burn of hot tamales candy, loved the color but the scent was not very pleasant to wear.
Incredible!
This box is AMAZING! I wish I could give it more than 5 stars! The only things that I wish were different is I wish I could pick the blush colout I wanted or the boxes all have the same blush rather than getting 1 of 2 at complete random. However thankfully the blushes chosen were decently universal depending on skin tone. The other thing is the soap bar doesn't lather all that well but that's not much or a problem for me because it still smells amazing and does its job so🤷‍♀️. BUT the body butter. OMG THE BODY BUTTER!! words can't describe how wonderful it is! I have a lot of skin problems and even though it's sented and coloured it's still amazing! Also this might be my favorite sent literally ever. Candle and glosses are great too. I honestly don't see any reason to not buy this. It may be expensive but I think it's very fairly priced for what's inside and for all the work included honestly if anything is underpriced for the content of it. Although I will say since I'm in Canada the shipping was a lot but that is in no way the fault of the business.
Great product. Took a while to arrive.